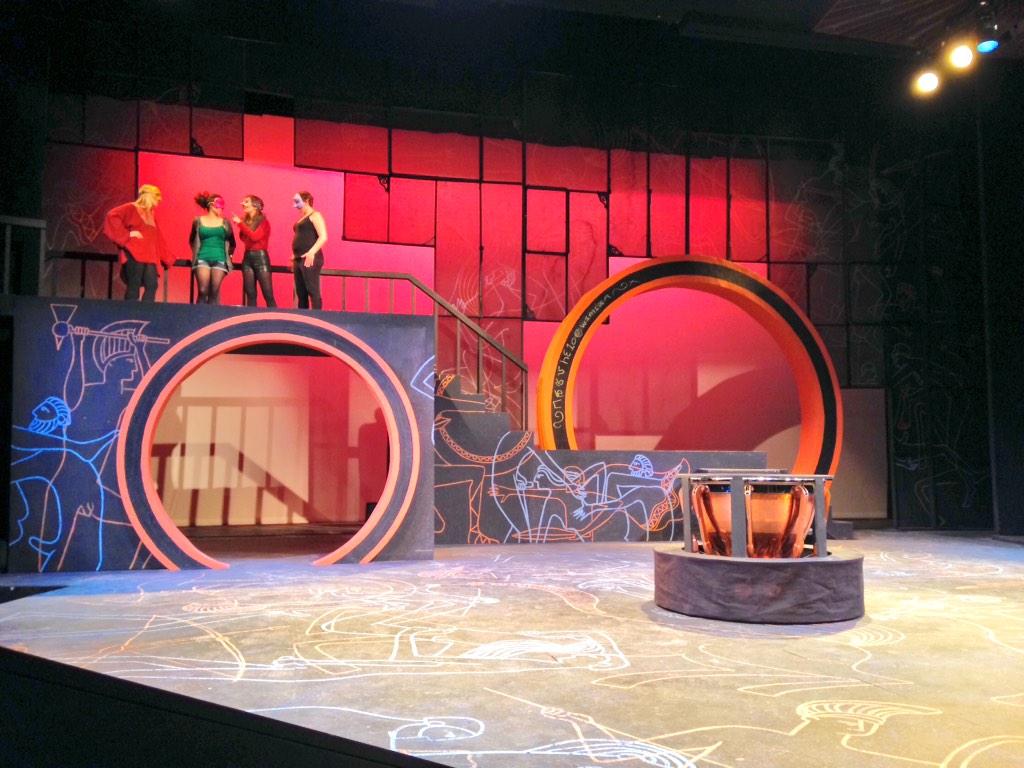 Lysistrata - UWM PSOA Theatre
Michelle Lopez-Rios, Director
2014 - Sound Design
The famous greek tale featured a tympani (dressed as a stone pedestal) center stage. All of the sound effects and music were generated live by the performers. Two stations backstage arrayed with various noisemakers, musical instruments and microphones did the bulk of the work. The effects and vocals generated there as well as a mic on the tympani were run live through QLab and processed with liberal amounts of delay, reverb and pitch transformation to heighten the soundscape.
Master Class - Milwaukee Chamber Theatre
Jill Anna Ponasik & James Zager, Directors
This re-envisioning of a Chamber Theatre success over 10 years ago featured the same soundtrack. The majority of my work involved working with the stage manager (who operated the sound) to create the "ducking" required for underscoring. I also created the video projection elements for this show.
Review - Milwaukee Journal-Sentinel
Review - On Milwaukee (mention)
The Congo Code - Kohl's Wild Theatre
Dave McClellan, Director
I designed the scenic and multimedia aspects of this touring production. The majority of the sound effects and original music I composed were integrated directly into the video content for the show. The Congo Code was presented as a signature piece at the International Museum Theatre Alliance national conference in Chicago in September of 2014. I was honored to be included among the presenters.
Samples below.
Feature - Fox 58's Real Milwaukee Television (appearance)
Lend Me a Tenor - Milwaukee Chamber Theatre
C. Michael Wright, Director
A farce with teeth. The sound included several musical pieces that the actors sang along with, presenting a challenge in balance and monitoring. The sound effect were classic affairs, involving voice overs, period sirens and telephones. For the last moments of the show, I created some nicely accelerating church bells.
Review - Milwaukee Journal-Sentinel
Urinetown - UWM PSOA Theatre
Anthony Horne, Director
This musical was almost free of sound effects or sound scaping. A lone telephone ring, perhaps.
October, Before I Was Born
C. Michael Wright, Director
A new play commissioned by Milwaukee Chamber Theatre, this kitchen drama featured a large quantity of voice overs for a radio announcer than threaded through the performance. The recordings were done at my studio and treated with backing ambience of a local disaster, in this case an explosion at a nearby factory. The backing included actual broadcasts from 1960's AM radio featuring the politics of the day, as well as emergency crews, vehicles and static. The radio needed to be tuned several times during the action, which presented a cuing challenge. Some clever QLab manipulation worked quite well.
Review - Milwaukee Journal-Sentinel